Football Predictions & TOP Betting Tips: Your Complete Guide (Kenya)
Football (soccer) is Kenya's favorite sport although its national football team hasn't had the impact they would have liked at the international level. People from all walks of life play the beautiful game in Kenya and carefully follow international and national matches via different media outlets.
The FIFA World Cup stirs up a lot of excitement throughout the country. Even foreign leagues enjoy a great deal of popularity in Kenya. In fact, the popularity of the English Premier League in Kenya far surpasses the popularity of the local Kenya Premier League.
Kenyan football fans are almost fanatic about their favorite teams, irrespective of whether they are local or foreign. Local football matches draw in huge crowds, with as many as 60,000 fans crowding in and millions more watching the match on TV when the national team is doing well.
Football Betting Craze in Kenya – Always on the Rise
Kenyans are just as fond of betting on soccer as they are of playing the game. PricewaterhouseCoopers reports that the third biggest gambling market in Africa is Kenya.
According to an industry report of 2018, most of Kenyan search queries on Internet were related to sports and betting. The most commonly searched term was 22Bet and SportPesa, followed by Livescore, Betin, Prediction, Betpawa, Games, and Forebet. The fact that Chelsea and Arsenal were also among the top searches indicates the growing craze for football and football betting in the country.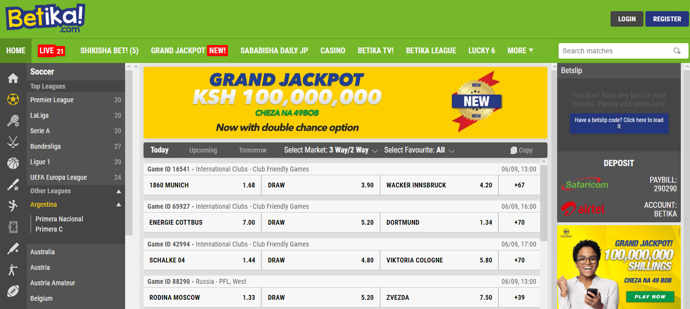 According to a Geopoll survey of 2017, the largest number of young people betting on sports in Sub Saharan Africa (SSA) hail from Kenya. Of the 54% youth who have placed sports bets in SSA, 76% hail from Kenya, 57% from Uganda, and 42% from Ghana. The report also shows that Kenyans bet once a week while people from other African countries bet once a month.
The same Geopoll survey showed that football bets comprised 79% of all the sports bets placed in Kenya, which makes Kenya the leader when it comes to placing football bets. Most of the bets placed were on the English Premier League.
One of the major reasons for the ever rising football betting craze in Kenya is because of the increased use of smartphones and the Internet.
Gambling Laws in Kenya – Taxes You Must Pay
The government of Kenya is rather strict about betting and very concerned about the rise in problem gambling and gambling addiction among the youth. It has never hesitated to establish its control over the betting industry.
The country enacted its Betting Lotteries and Gaming Act in 1966, and shortly after that, it launched its regulatory body, the Betting Control and Licensing Board (BCLB). Betting in Kenya is a government monopoly. But the BCLB does issue licenses to offshore online sportsbooks too.
According to the betting laws, licensed operators of online betting sites in Kenya are expected to withhold 20% of player winnings and pay it to the government as taxes. Unfortunately, none of the online sports betting site in Kenya complied with this law.
As a result, in July 2019, the government of Kenya ordered telecommunication companies to block paybill numbers and short codes associated with the betting industry and gave individual bettors 48 hours to withdraw their money. It also revoked the licenses of around 27 betting sites in Kenya.
The government now intends to take more drastic steps. It has drafted a new piece of legislation to replace the existing Lotteries and Gaming Act. Called the Gaming Bill 2019, it proposes a hefty deposit of KSH100 million for any company that seeks a license to operate in Kenya.
If the new bill is passed into law, operators will have to pay their taxes properly to the government, carefully monitor the activities of their customers to detect problem gambling and gambling addiction, and impose a minimum wager of KSh50. The new laws would also allow Kenyan partners of offshore gambling firms to own as much as 30% of the business.
Free Football Betting Tips for Kenyans
If you are a Kenyan who loves football betting, here are a few tips you must consider:
• Know Your Bookie Well – If you want to place football bets in Kenya, you have to sign up at a bookmaker. And before signing up at a bookmaker, you must research the bookmaker well.
No two bookmakers are alike as they have their own policies and terms and conditions. Even the betting products they offer are different. So never sign up at an online bookie in a hurry. Spend a few days or even weeks researching your bookie.
• Find Your Minimum Withdrawal Amounts – Imagine your disappointment if your bookie won't allow you to withdraw your winnings just because you don't have a minimum of KSh100 (or some other amount) in your balance. So read the withdrawal policy well before signing up.
If you don't understand something, don't hesitate to get in touch with a customer support representative through live chat or email and to clarify all your doubts. Sign up at a bookie that allows you to withdraw your winnings whenever you please.
• Study the Markets – Bookies don't make things clear to their newly registered bettors for their own reasons. Although you will ultimately learn the hard way, you can make things easier for yourself by simply studying the markets and betting odds well. Sign up with bookies that give you the bigger payouts.
• Complaining to Bookies – Most of the time, bookies have it their own way. But if you stick to your point and stay firm and polite, bookies have to listen to you.
The most rewarding way to complain to a bookie is through live chat. If you make things absolutely clear and refuse to admit defeat, the bookmaker will have no choice but to see things from your point of view. After all, no bookie wants you to run off and share your bad experiences with them on social networking sites. They do have a reputation to maintain.
Once you have decided which online sports betting site you are going to rely on, you should keep the following football betting tips in mind:
• Avoid Getting Emotional – Your love for a team shouldn't get in the way of your winning a bet. If cold, hard, and calculated research shows that your favorite team won't win, avoid betting in its favor. If you want to make profits out of football betting, you cannot let emotions defeat your reason.
• Don't Be Greedy – Avoid including more teams into accumulator bets or betting more money than you initially intended to just to increase your maximum payout. Instead, create a proper betting plan and stick to it.
• Accept Your Losses – Since you are in the betting industry, you cannot expect to win all the time. So, learn to accept your losses gracefully. Avoid chasing your losses as it could lead to a depleted bankroll and a broken heart. You just need to have the patience and choose bets that will definitely work for you, and that takes tons of patient research on your part.
• Bet Money You Don't Mind Losing – Football betting is just not your cup of tea if losing money while betting is going to destroy your life. To put it very simply, you should bet money on football games only if you don't mind losing it.
• Betting Too Much – If you can think of nothing else but placing bets on football, you are in trouble. You must get professional help when football betting stops being fun and starts to get oppressive.
Football Prediction Sites – Can You Trust Them?
Football betting is a highly risky activity. When done without proper research and knowledge, it becomes just like playing a slots game at an online casino.
If you want to get anything out of soccer betting, you must be willing to do your homework. You may have to spend endless hours researching teams, players, and coaches and staying updated on the latest football news before you can consider yourself fit enough to place a profitable football bet.
Most of us are busy people who love football, but simply don't have the time to do the required research. That's why we search for football prediction portals and football betting portals that claim to offer accurate football predictions.
For example, one of the football prediction sites we checked out claims to provide well-researched football tips and predictions. Predictions are available for any league you might the interested in, including the Premier League.
The above-mentioned site also promises an accuracy percentage of 90% and assures that it uses relevant trends and stats to predict football games. Since it also includes a blog, you can get the latest about football betting and the latest football events. It also provides a comparative analysis of betting odds at various bookmakers and offers football tips based on the latest stats and news.
To put it very simply, football prediction sites do all the homework that you are actually supposed to do before placing a football bet. There are several advantages to signing up at such football prediction sites, but it makes absolutely no sense in depending on them completely.
And if you can't afford a huge betting bankroll, it makes no sense in paying for football predictions that do not guarantee a win.
Even if you do use a football prediction service, you have to cross check facts and do your own research before placing bets on your favorite football games.
Here are a few tips you should consider before signing up for a football prediction and betting tips service:
1. Reputation: How reputed is the service? Has it been around for a long time and has it just appeared out of nowhere? The services that have a history behind them are usually the best. If the site has just appeared on the scene and you cannot find out much about its owner, it makes no sense trusting it. You just have to wait for it to prove its worth first.
2. Bettor Feedback: Do other football bettors talk about it? Can you find any positive reviews, feedback, or complaints about the football prediction site you are interested in? We suggest discussing the football predictions site on well-known betting forums and chat rooms before you actually decide to trust it.
3. Expertise: You have to find out if the football predictions site relies on expert advice. Do they actually use the latest news and the latest statistics while predicting outcomes? Do they really have in-depth and comprehensive information about the leagues, teams, and players they are analyzing? You have to make sure that you are not trusting amateurs.
We cannot say that football betting can replace your nine-to-five job. However, we can definitely say that there are bettors who have made some serious money with football betting. If you do your research thoroughly and use the services of a trusted and reliable football predictions service, you too can make a profit. If you get careless, however, you will lose quite a lot of money.
Which Bookmakers Should Kenyans Use?
Kenya is home to dozens of bookmakers. Before signing up, you have to make sure that they have received a license from the BCLB. We suggest the following bookmakers for serious Kenyan football bettors:
1. 1xBet Kenya belongs to 1xCorp N.V. and Bonnal Ltd and operates in Kenya under a BCBL license. 1xBet Kenya is a huge gambling portal, giving you not only online and pre-match sports betting options, but also casino games, live dealer games, 1xGames, virtual sports, bingo games, and TV games. They have a blog and a wide social media presence; so you shouldn't find it difficult to connect with them.
2. 22Bet Kenya is an online sports betting brand belonging to Pesa Bets Ltd. Offering over 1000 events every day, 22Bet allows you to place a variety of bets such as singles, accumulators, chains, and others. Registration takes just five seconds, and once registered, you qualify for a generous welcome bonus and loyalty rewards.
3. Sportybet first launched in Nigeria, but is now available in Kenya too. You can use its betting platform to place bets on virtual sports, jackpot games, financials, and sports events. Every week, Sportybet gives you the opportunities to win jackpots worth KSh1,000,000. In addition, it is the home of rafiki bonuses and karibu bonuses.
4. Sportpesa is the biggest and most popular online betting site in Kenya. It offers betting options on sports, live dealer games, jackpots, and jengabets. You don't even have to visit the Sportybet website if you want to register or place bets. The online betting site allows you to place bets through USSD or SMS. You can also download the native app for Android and iOS and bet on the move.
5. Betin – Betin Kenya is a feature-rich, but easy-to-navigate online bookmaker that welcomes new players with a large bonus. In addition to pre-match betting options, the online bookmaker offers virtual games betting, casino games, and jackpots. Betin Kenya is optimized for mobile play so you can use the app to place sports bets on the move.
The Best Betting Sites in Kenya
Online sports betting is fast becoming something of a thriving industry in Kenya, albeit a relatively new one. Unlike many jurisdictions across the world, sports betting in Kenya is completely legal and has been for over half a century thanks to the Betting Lotteries and Gaming Act that was passed in 1966.
Kenya is something of an industry leader when it comes to sports betting in Africa, and sports betting in Kenya is only outstripped in the dark continent by Nigeria and South Africa. Sports betting – if done legally and responsibly – is a great way to make any sporting content a little more exciting, and of course, there's always the welcome prospect of making a bit of extra cash.
This rating will highlight the best places on the world wide web where you can place your sporting bets, plus advice upon how you can keep yourself and your sports betting money safe and secure.
We will also explore the best bonuses that are available for keen sports bettors in Kenya, plus you will be given the chance to supply your own feedback from the sites that we highlight. You can share your views with your fellow Kenyans who are looking for the best online sports betting experience that they can find.
The Best Betting Companies in Kenya in 2019
(1) SportyBet
It's our conclusion that SportyBet is the number one online sports betting site for Kenyan sports bettors. It's originally a company based in Nigeria, but it has now ventured west across the continent in order to offer its wares to Kenyans.
As well as every sporting contest you could possibly imagine, SportyBet gives you the opportunity to bet upon financial matters, jackpot games, and even virtual sports. There's also a weekly jackpot offered by the site of KES 1,000,000.
(2) Betin
Number two in our list of the best betting companies in Kenya in 2019 is Betin. This is a well-established site that thousands of Kenyan sports bettors rely upon in order to place their sporting bets. This site has a dedicated section for people who prefer to place their bets using mobile devices, which of course is essential if you want to indulge in sports betting in Kenya.
(3) Betika
While certainly having fewer sports betting offers than the two sites listed above it, Betika is another Kenyan-based betting site where integrity rules. It is perhaps a site that's been designed with the needs of serious sports bettors in minds, as opposed to those who only place sports bets occasionally. It is not the best-looking site you will find on the internet, but it gets the job done, and includes the option to place bets via SMS messaging.
(4) 22Bet
22Bet is an international site that was set up in 2017 and offers its services to sports bettors from Kenya and countless other jurisdictions. It's a modern-looking site with several extra features including the option for site users to place bets using cryptocurrencies. It has decent bonus offers, covers all major sporting events and is available in over fifty languages.
(5) 1XBet
1XBet is another internationally-owned and licensed sports betting site that has built up an enthusiastic clientele, with particular interest from sports bettors in Eastern Europe, Germany, and Portugal. Despite offering its services to sports bettors in Kenya, this company is based in Russia and as well as having a dedicated online presence, it owns and operates over one thousand real-world sports betting shops.
(6) mCHEZA
mCHEZA is another online sports betting site that specializes in bringing sports betting opportunities to the people of Kenya. It was created in late 2015, which was just when sports betting in Kenya was really beginning to catch on. This company was purely SMS based at first, but it has since grown into a fully-fledged online digital betting platform.
(7) betPawa
Here, in betPawa, we find another sports betting platform that has worked hard to bring sports betting opportunities to people in Africa, and in particular Nigeria, Ghana, Zambia, Tanzania, Uganda and of course, Kenya. This site has gained a popular reputation via its ease of financial dealings, plus of course, it covers the complete range of sports betting options.
(8) BetYetu
On the surface, BetYetu looks to be something of a disappointment, but if you actually look deep enough you will find a very decent betting experience here. Not all sports bettors want something that is full of flashy graphics, and BetYetu deliberately places itself at the more serious end of the market. Despite this simplistic approach, BetYetu is a very user-friendly site that will appeal to those who take their sports betting very seriously indeed.
(9) SportPesa
SportPesa is a real Kenyan success story, as it was launched onto the domestic market but has since become a genuine international concern and sports bettors from all over the world are now keen to place their sporting bets at this great-looking site. Thanks to some modern developments, SportPesa is an easy site to use and delivers some fantastic sports-betting odds.
(10) Betway
Betway is one of the biggest sports-betting companies in the world, and are one of the biggest sports-betting names that offers services to sports-bettors in Kenya. This company has been around since 2006, and currencies of all denominations have passed through the Betway coffers in their millions. The site has been so successful that it has managed to sponsor several EPL football sides, including West Ham United.
(11) KwikBet
One of the key factors of any sports-betting site that offers services to bettors in Kenya is the ability to bet by SMS. KwikBet is another Kenyan-facing sports-betting brand that began life as an SMS-only betting site, but since those early days has grown considerably in stature. Now their software can be used to place bets online, but SMS betting is still very well supported.
(12) Dafabet
Dafabet is another internationally-based online betting site, this time in the Philippines. From very humble beginnings, this site has built an enviable reputation and has placed itself well in the UK market by sponsoring many leading football sides including Celtic, Burnley, Blackburn Rovers and Sunderland. Dafabet, of course, also accepts sports bettors from Kenya.
(13) BetLion
BetLion is an online betting company that promotes its wares to the entirety of Africa, and not just Kenya. It always offers favourable deals and special one-off promotions that should be interesting to anyone who likes a bit of sports-betting. It has also come in for some praise because of its support of grassroots football.
(14) Eazibet
If you are sports-bettor who is based in either South Africa, Ghana or Kenya, then the chances are that you are fully aware of EaziBet. This is another excellent sports-betting site which is very, very easy to use. It offers an amazing range of sports-betting opportunities, including niche activities such as live betting and virtual sports betting.
(15) ChezaCash
ChezaCash is an online betting site that has really come on in leaps and bounds in recent years, following criticisms that the site was too slow to load. It went under something of a rebuild in 2018 and has come back healthier, stronger, and much more useful! ChexaCash is now proud that it can stand shoulder-to-shoulder with many of the best online betting sites in Kenya.
The Best Bonus Offers
Sports-betting stands at the more serious end of the online wagering market, but it never hurts to get a little more bang for your buck with a sports-betting bonus. In addition, if you use bonus cash you can test out a sports-betting site without risking too much of your own cash.
Not all bonuses give you the chance to come out firmly on top, though. Here are what we think are some of the best sports-betting bonus offers for Kenya sports-bettors in 2019.
(1) 22Bet
22Bet is a decent company for sports betting bonuses, and their welcome bonus is one of the best and fairest around. Their usual sign-up bonus is 100 percent bonus worth a magnificent maximum 15,000 KES, for which you only need to make a minimum deposit of 100 KES. The site also offers a weekly 40 percent reload bonus every Friday up to 5,000 KES.
(2) 1XBet
What's 'better' than a 100 percent bonus? Why, a 200 percent bonus of course! At 1XBet if you are in Kenya then you can earn yourself a 200 percent bonus by making a deposit up to 20,000 KES. We are, however, listing this bonus as ranked beneath the 22Bet bonus as the terms and conditions are slightly less favourable.
(3) Betika
When you are placing a sports bet, there is nothing worse than losing! You can temper this agony somewhat at Betika by using their unique money back offer. If you place a multiple bet with a minimum stake of KES 50 and you lose a maximum of two selections in your bet, then you get back up to fifty times your stake as bonus cash!
(4) Betway
As we mentioned in our mini-review of this site, Betway is one of the biggest betting companies in the world. If you sign up here you can award yourself a bonus up to KES 5,000. This is done via receiving a 50 percent bonus that matches the amount of the first deposit made, plus you receive a selection of free bets.
(5) SportyBet
New SportyBet customers can earn themselves a multiple bet bonus worth up to 135 percent by placing accumulators at this site. All you need to do to boost your acca is to place a bet on the sport or live-betting markets containing at least four selections. The more selections you add to your acca, the bigger the bonus you receive.
The Best Betting Sites with M-Pesa/SMS
While sports bettors in Kenya usually have no problem in using sports betting platforms, actually getting money into and out of their accounts can be troublesome. Across the world, people typically use credit and debits cards or eWallets such as PayPal in order to fund their sports betting. In Kenya, such options are usually not available.
The leading way that people in Kenya transfer money online is via M-Pesa, which is a money transfer system that typically operates via mobile phones. This financial service was launched by Vodaphone in Kenya in 2007 and covers many countries in Africa including Tanzania, Lesotho, and Egypt, plus India and Afghanistan in Asia and Romania and Albania in Europe.
Mobile phones in Kenya usually come pre-loaded with an M-Pesa app, which can then be used to transfer money between M-Pesa accounts. Security is established via a PIN, just like people have with credit and debit cards. Cash can be loaded into an M-Pesa account via real-world M-Pesa agents, or directly via a bank account.
Sending money is as simple as entering the recipient's phone number and the amount you wish to send. Once complete, both you and the recipient of your money will receive an SMS message stating that the transfer has been successful, or otherwise.
When you send money to a sports-betting site, it will be as though you are using M-Pesa to pay a bill. You enter the business number as given by the site, plus the account number and the amount you wish to transfer. Once you have entered your PIN the transfer will go through. You should then receive an SMS as confirmation.
Most Kenya-facing sites accept M-Pesa transfers, but some of the best are 1XBet, SportyBet, SportPesa, Betway, and BetLion. Always also look for sites that accept alternative payment methods such as credit and debit cards, and eWallets, though.
Conclusion
It's our aim at KISE to become your number one resource for sports betting in Kenya. Not only do we have reviews for all the leading Kenya-facing sports betting sites, we update all the best bonus offers on a weekly basis and we've plenty of tips and tricks for you to consider when you're betting on your favourite teams and pastimes.
Don't forget to bookmark our site, don't be a stranger and above all, the best of luck!